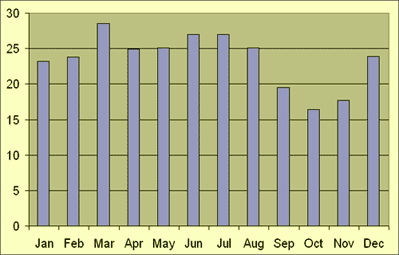 The wind map
Statistic taken from March 2002 to November 2006; Number of days with a wind speed equal or above 15 Knots
The Wind
Wind surf in adicora is possible all year round thanks to the constant wind and mild temperature. Just below 12 parallel north is on the full path of the trade winds, blowing constantly for most of the year; In between January and August there are the highest number of days with strong and constant wind with a peak usually in March. During the rain season, October and November, there are frequents periods of calm.
Typically the wind will pick up intensity during the afternoon and will last till dark, as it is frequent to blow night and day for many days. During the good season even if not windy a thermal is usually strong enough to use a kite Surf or a big board.
Climate
The whole peninsula has a dry climate and a steady temperature. During the month of September will be the begin of the rainy season with increased humidity; In December and January the average temperature is around 25 being the cold season, rarely will be less than that and the difference between nights and days is never to high thanks to the breeze.