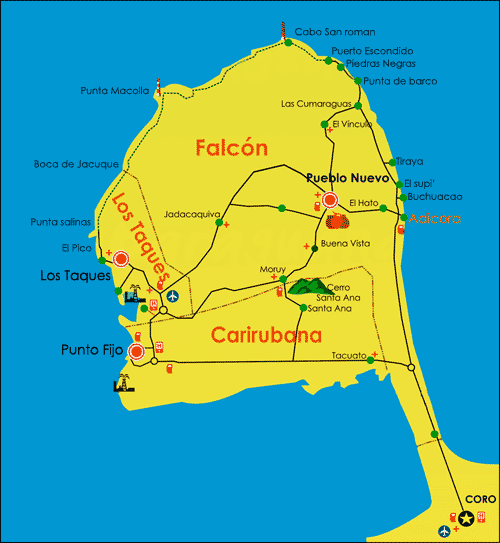 Paraguana'
Stretching over 50 miles on the Caribbean Sea has its north tip, Cabo San Roman, laying only 17 Miles from the island of Aruba, forming the second furthermost north point in the continent.
Formerly an island is connected to the mainland by a thin stretch of land covered with sand dunes, constantly shaped by the wind. The city of Coro is the gate to the peninsula and the region's capital city. Drive time from the capital Caracas is around seven hours.
Punto Fijo
The main city in the peninsula is Punto Fijo, connected by air or land to all the mayor cities in the country. The city has experienced a constant growth in the last fifty years thanks to the petroleum industry, his plant being the biggest in the world and processing now days over a million barrels per day.
Punto Fijo has a commercial relevance too; the entire Paraguana peninsula became recently "zona libre", tax free for all commerce, this attract daily a great number of shoppers thanks to low prices. The city itself does not offers a lot to the tourist but is a connecting point to all the small villages on the coast such as El Pico.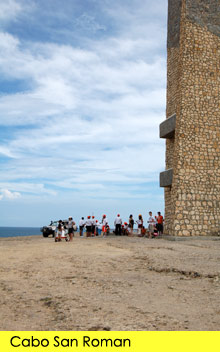 The coast
Following the coast from Adicora is possible to travel across the entire peninsula; the road up to Cabo San Roman is in good shape and easy to follow, following towards Punta Macolla is necessary a four wheel drive.
North
Going North, Short after Adicora is the village of El Supi with its salt marshes and a colony of pink flamingos. A place to enjoy some small waves good for surfing is the small beach of Buchuacao.
Punta del Barco and Puerto Escondido are two other good playas, the latter well known in the region as a good place to stop for its small restaurants offering fish specialities. The north east coast has the most variegated landscape. The traditional flat ground and low vegetation of thistle and cuji trees that are typical in the peninsula is often interrupted by wet areas in the north and sand dunes similar to Coro's one close to the sea side.